THE ADVANTAGE OF PIERĪGA VILLAGES IS THE IMPROVED LAND
Real estate in Pierīga – not only an apartment, but also improved land.
Lifestyle quarter
What cannot do a single house, can be achieved by a well-planned quarter. The goal of its idea is to enable formation of a community of people – a group of like-minded people who create environment built on similar values and lifestyle in one geographical region.
Līčukrasti combines a premium class quarter with the feeling of a private house – comfortable, safe, healthy and sustainable – 24 hours a day, 7 days a week.
The overall concept and architecture was created by the well-known architect Gatis Didrihsons with an emphasis on the concept of territorial development – a quarter with a story. The project is completely new, with a new vision, but on a previously developed foundation. The project will initially consist of a lowrise residential building with 24 apartments, balconies and terraces, an underground parking garage, storage rooms and a summer garden.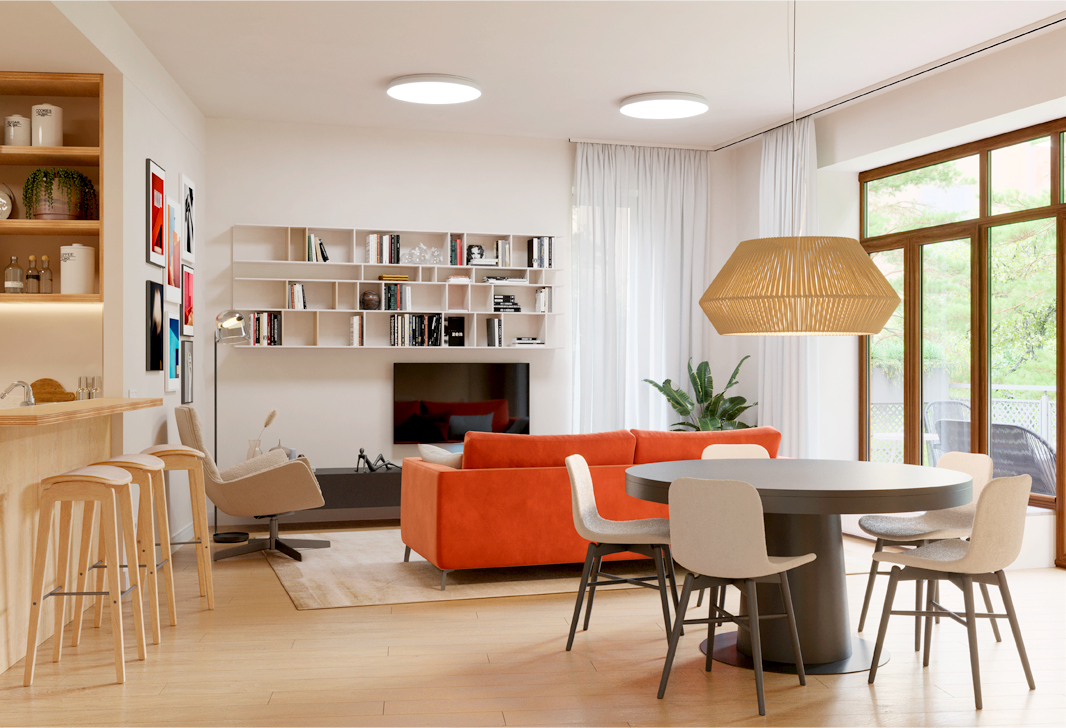 Nature and infrastructure – we are looking for such a combination in today's world. That is why Līčukrasti is designed to provide the opportunities you would get living in a private house in Pierīga, but the services available would match those of a developed quarter of a city where the level of comfort of the residents and creation of a common philosophy are taken into account. And here is where the opportunities for increased living comfort begin.
Low density of buildings, well-planned apartments, high-level finish materials, high-quality plumbing, heating system and utilities of modern leading technologies, an elevator in the staircase with the largest apartments, an underground parking garage, bicycle and stroller storage room, storage room for each apartment, rooms for sports, sauna, yoga, an electric car charging station – these are just some of the advantages of the future residential village. Many of them are also manifested in the accessibility and diversity of the environment – enjoying nature in a relaxed way, a fast morning run on forest trails, Sunday afternoon tea on the terrace watching the sun set – you don't have to move to the countryside to enjoy and experience it, you don't have to be a millionaire to enjoy the sunset from your private peninsula. In Līčukrasti, each owner will be able to enjoy their residence with the comfort that has been available in the most exclusive market segment so far.
The naturally formed Līčukrasti environment is suitable for sports activities and outdoor recreation. That is why, when creating the concept, architects also provide a place for everything that makes this outdoor recreation and activities possible – bicycles, scooters, roller skates, skis, Nordic walking equipment, and other inventory – there will be home here where all this can be used and stored in a convenient and comfortable way.
Residences Līčukrasti is a new concept quarter with a great location and logical positions of the offered properties. The quarter offers homes for modern, progressive people who want to enjoy life in harmony with nature, but without losing connection to the pace and lifestyle of a city.
Līčukrasti is designed as a project of a high-comfort complex of residences in various architectural forms (including row houses) the development of which in 6 stages will provide the best living conditions for 100 happy families, giving residents the opportunity to participate in developing the following stages by expressing ideas and thoughts on creating their environment.
The real story of Līčukrasti will be created by its residents in cooperation with the developer and the municipality. Anyone who has been in Līčukrasti understands the unique value of the project and wants to play a part in its creation and improvement.
Although the quarter will develop in various forms of architecture, the developed detailed plan guarantees that the density of buildings will not increase, which is an important aspect when thinking about the special concept of the village as a private, familiar and safe environment. As the rhythm of life changes, developers adapt the offer and change concepts of how to create future residential projects. Līčukrasti will become a place where it is possible to live and work without even leaving the residences – the territory familiar and safe for you. Such a quarter concept in the future may also include a public complex, co-working space, cafes, children's centres and other services.
We are at the beginning of a great, beautiful journey. Being aware of this, we are currently offering the best price per square meter we will ever offer in this project. Moreover, as our plans are finished, the total value will only increase.
The author and developer of the idea of the Līčukrasti quarter is Harijs Čīka – a man with a big heart and great experience in the construction industry both in Latvia and abroad. In this project, Harijs combines his vision, experience of other countries, Latvian nature, patriotism and the demands of a modern lifestyle.
Confidence, quality, thinking outside the usual frame and accepted standards both in the real estate market and in territory planning – all this characterizes Harijs Čīka's style of work. The project is being developed with a goal to start a new direction in the understanding of the quality of life, and it materializes  right here in Līči, Stopiņi Municipality.
The developer Harijs Čīka about Līčukrasti:
"In the fast run, the most important thing in business is often lost – the person, their needs, wishes and the level of comfort. In creating this project, we want to emphasize that here, in Līčukrasti, the most important thing is the person. Their essence, existence, harmony and interaction with the environment, nature, architecture. We are building and creating the quarter in cooperation with the residents in the long run. So that Līčukrasti is really a home where you want to be, want to return and a place you long for. Līčukrasti is my dream of a different place to live and lifestyle, and of an attitude we all long for but which we don't always manage to find."
Architect Gatis Didrihsons about the project:
"Līčukrasti project-quarter fully corresponds to our understanding of a sustainable place for good living in direct contact with nature, not far from the city, in a place of a balanced density of buildings with preconditions for community building – common outdoor areas, a park, waterfront and a variety of real estate offers. These things in one place can be provided by larger construction projects – quarters – which is also the idea of this project Līčukrasti.